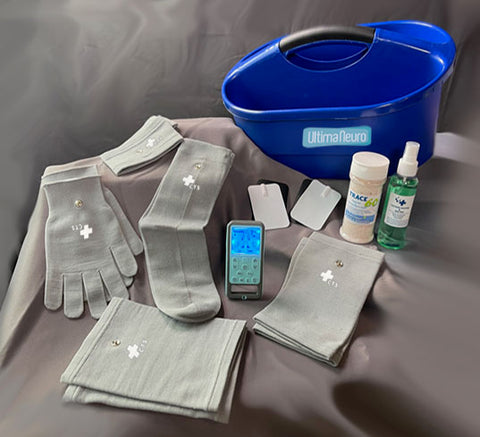 Ultima Neuro Pro Packages with Bath Protocol & Surgical-Grade Garments
$ 317.97 USD

Save

$ 57.03 USD
---
Available NOW only at Conductive Therapy Shop, our Ultima Neuro Pro packages give regular neuropathy sufferers access to the same powerful equipment, treatment options, and surgical-grade accessories that our professional clinical customers have access to.
All Pro Packages include:
The Ultima Neuro device and standard accessories, instructions, and User Guide

2 pairs of silicon rubber electrode pads, bath bin, conductive medium, and User Guide for the Water Bath Protocol

1 pair of Surgical Grade Electrode Socks

1 pair of Surgical Grade Cuffs

1 6oz bottle of Trace 60 Conductive Spray

2-3 Day Priority Shipping within the Continental US
The Pro Gold Package Includes everything listed in the Silver Package above, plus:
1 pair of Surgical-Grade Gloves (only available in One-Size-Fits-Most)
The Pro Platinum Package Includes everything listed in the Silver and Gold Packages, plus:
1 pair of Surgical-Grade Elbow Sleeves

1 pair of Surgical-Grade Knee Sleeves
NOTE: The product qualifies for free 1-3 Day USPS Priority Mail Shipping
Features
Specifically Designed for Relieving Neuropathy Pain
The Ultima Neuro is engineered to treat pain and discomfort associated with Peripheral Neuropathy, Diabetic Neuropathy and Poly Neuropathy Nerve Pain of the hands and feet by employing the latest nerve-stimulating waveform technology. Relying on a cutting-edge, hybrid combination of specialized treatment modes to relieve pain, restore normal nerve function, flush harmful toxins, and heal neuropathy-damaged nerves, the Ultima Neuro is a powerful tool that can provide both long-term healing and nearly instantaneous symptom relief.
The Most Effective and Highest Quality Electrode Garments Available
Conductive Therapy Shop's® unique Surgical Grade Electrode Cuffs are woven with a special blend of Highly Conductive Silver Thread and Super Elastic Cotton/Nylon Mesh. This maximizes both conductivity and comfort, while allowing the Electrode Cuffs to accommodate the varying shapes and sizes of most forearms and calves. Commonly recommended by Physicians and Specialists, Surgical Grade Electrode Cuffs are used in conjunction with TENS devices for the treatment and management of various types of pain.
Surgical Grade Electrode Cuffs are most often used in tandem with our Surgical Grade Electrode Socks or Gloves, where they serve as the second electrode contact necessary for creating the circuit that distributes the healing current. When used in this configuration, Surgical Grade Electrode Cuffs significantly expand the treatment area to include not only the foot and ankle, when paired with an electrode sock, but also the lower leg and calf.  When paired with an electrode glove, cuffs can extend the treatment area from the fingers, hand and wrist, to the forearm, elbow and bicep.
Simple, Convenient, Effective and Safe
Our unique Ultima Neuro Treatment Packages were developed in neuropathy pain clinics across the country. These packages allow for easy, effective, portable and highly-personalized neuropathy treatments that can be performed in the convenience and safety of your own home. Neuropathy sufferers simply turn the Ultima Neuro on, adjust the intensity level to preference, then enjoy the pain reducing, nerve healing benefits of the timed treatments. Plus, the Ultima Neuro has been proven to reduce or even eliminate many users' reliance on the powerful, often dangerous pain-relieving medications so often prescribed for Peripheral Neuropathy.
Comes with Everything You Need to Get Started Today
Our exclusive Pro Packages include all the items and accessories you will need to begin treating your specific areas of concern immediately, using both the Water Bath Protocol and the Electrode Garment Protocol. The Ultima Neuro was designed to be used with either silver-fiber conductive therapy socks, gloves, sleeves and cuffs, or electrode pads that can be applied directly to the skin or used in a bath setting to distribute the healing current through water. Because the the Ultima Neuro has two output channels, it can be used to treat both hands and/or both feet simultaneously.
Dramatic Reduction in Pain & Improved Sleep
Users report that Ultima Neuro treatments are relaxing, enjoyable, soothing and energizing. Treatments often dramatically reduce pain and are known to help improve the quality of sleep.
An Ultima Neuro Package for Your Individual Needs
Don't see exactly what you need here? We have dozens of unique Ultima Neuro package configurations listed elsewhere on this site designed to treat your particular areas of pain, from packages including a  single electrode sock or glove to those containing "The Works", with all the available electrode garments and accessories for the Water Bath Protocol. Unsure about what you need?  Contact us at support@conductivetherapyshop.com and we'll be happy to point you in the right direction. We also regularly create customized packages made specifically for individual needs.
The Most Affordable Neuropathy-Specific Estimate Option
The Ultima Neuro is the most affordable neuropathy-specific electrotherapy device on the market. It has proven to be an equally-effective alternative to the other major neuropathy-specific electrotherapy devices distributed by ReBuilder Medical, including the considerably-more-expensive ReBuilder 300 and ReBuilder 2407.
Best Price Guarantee
We are the world's leading seller of the Ultima Neuro for many reasons, including incredibly product support and price. If you find and can show us a better price for an identical Ultima Neuro Stimulator Package from a legitimate retailer, we will beat it by 5% up to $50.00.
NOTE: A popular tactic used by other sellers is to offer ultra-low pricing; in reading the fine print however, you'll find that "All sales are final", that they do not accept returns for any reason, and that they do not offer post-sales technical support for the Ultima Neuro. If we've learned anything about this device over our years as the leading seller, it is that these are limitations you don't want to discover you unknowingly agreed to.
Indications
The Ultima Neuro Advanced Neuropathy Stimulator and accessories are commonly recommended to patients by Neurologists, Physical Therapists, Podiatrists, Chiropractors, Chronic Pain Management Specialists and other Physicians and Health Care Practitioners. The Ultima Neuro should be purchased on the order of these Health Care Practitioners for use in the treatment and management of pain, discomfort and dysfunction associated with various neuropathies, including peripheral neuropathy and diabetic neuropathy.
Safety Information
Always consult your physician before purchasing or beginning any treatment with the Ultima Neuro or any other electrotherapy product. Unless otherwise prescribed by your physician, Ultima Neuro treatment and all electrotherapy should be avoided by expecting mothers, children, individuals with pacemakers and other electrical implants, and individuals with other complicating conditions. Never operate a motor vehicle while undergoing electrotherapy. If you experience an adverse or unusual reaction when using this product discontinue use immediately and contact your physician. NOTE: If you have a pacemaker or other implant please consult with your physician before purchasing or using the Ultima Neuro.
Legal Disclaimers
User assumes all responsibility for the use/misuse of this product. As with all electrotherapy treatment products, the Ultima Neuro should be purchased and used under the supervision or order of a qualified physician. Users must read and follow all directions provided by their physician and the product manufacturer concerning product use, treatment times and protocols. User understands that seller Conductive Therapy Shop is only a distributor and in no way assumes responsibility for any injury this product may cause due to malfunction, misuse, inappropriate application, or any other reason. Actual product packaging and materials may contain more and different information than what is shown here. We recommend that you do not rely solely on the information presented and that you always read labels, warnings, and directions before using this product.
---
We Also Recommend: