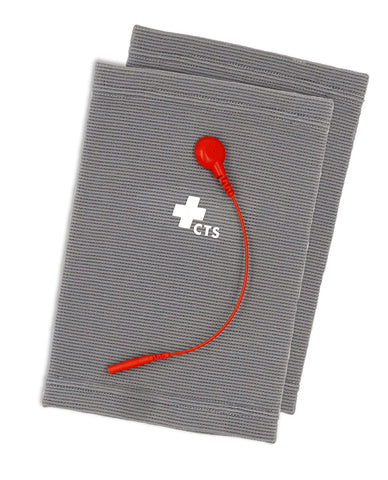 Surgical Grade Elbow Sleeves Pair
$ 79.77 USD

Save

$ 16.20 USD
---
Description
Conductive Therapy Shop's ® unique Surgical Grade Electrode Elbow Sleeves are woven with a special blend of Highly Conductive Silver Thread and Super Elastic Cotton/Nylon Mesh. This maximizes both conductivity and comfort, while allowing the Electrode Sleeves to accommodate elbows of varying shapes and sizes. Commonly recommended by Physicians and Specialists, conductive sleeves are used in conjunction with TENS devices for the treatment and management of various types of pain.
Surgical Grade Electrode Sleeves are most often used as a pair, or in tandem with our Surgical Grade Electrode Gloves, where they serve as the second electrode contact necessary for creating the circuit that distributes the healing current. When used in this configuration, Surgical Grade Electrode  Sleeves significantly expand the treatment area to include not only the elbows, but also the forearms, wrists and hands. 
NOTE: The product qualifies for free 1-3 Day USPS Priority Mail Shipping
Features
Take your TENS electrotherapy treatments to the next level with Conductive Therapy Shop's 

®

unique Surgical Grade Electrode Elbow Sleeves Pair, manufactured in Japan.
These high-quality Surgical Grade 

Sleeves 

were made specifically for Medical Clinics, but are now available for customers to purchase! 
Woven with a special silver filament to maximize treatment coverage and conductivity of the healing current.
Surgical Grade

Sleeves

 are used in conjunction with electrotherapy devices with standard-sized snap or pin connections such

as standard TENS devices, RIFE Machines such as the Resonant Light Pro Gen Series, Ultima Neuro, EMS, Healthmate, TruMedic, Prospera, Empi, XFT, Acclaim, etc.

Devices sold separately.
Treat the elbows, lower biceps, and forearms comprehensively and uniformly during a single therapy session. Elbow Sleeves are most often used in conjunction with our Surgical Grade Electrode Gloves to also treat the hands, wrists, and forearms.
Universal ONE-SIZE FITS MOST construction. Our Electrode

 Sleeves 

are light, flexible, durable and comfortable to wear. 
Indications
Conductive garments are commonly recommended to patients by Neurologists, Orthopedic Surgeons, Physical Therapists, Podiatrists, Chiropractors and other Health Care Practitioners for use in the treatment and management of pain associated with:
Peripheral Neuropathy
Diabetic Neuropathy
Arthritis
Nerve Pain
Tarsal Tunnel Syndrome
Plantar Fasciitis
Inflammation
Cancer
Degenerative Joint Disease
Reflex Sympathetic Dystrophy
Sports Injuries
Accidents
Muscle Problems
Post-Surgery Swelling & Healing
Bicep, Elbow, Forearm, Wrist and Hand Abnormalities
Notes
All conductive garments MUST be used in conjunction with an electrotherapy device, sold separately.
For best results, use all conductive garments with either conductive gel or spray (can be purchased separately). When using conductive gel, apply gel generously to hands, feet, or other area to be treated before wearing the garment. When using conductive spray, generously saturate the fabric of the conductive garment before wearing.
Conductive garments are intended for use/reuse by a single user. They are for treatment purposes only and should not be worn throughout the day like a traditional glove or sock would be.
Conductive garments are made with specialized fabrics and materials. Like any similarly delicate garment, conductive garments have a limited life span and will need replacement after a period of continued use.
Hand wash in cold water only with detergent designed specifically for delicate fabrics only when absolutely necessary. Never use any laundry detergent that employs an oxidization cleaning process. Brands such as OxiClean will destroy the silver thread, rendering the garment useless. Reshape garments and lay flat to air dry. Never use a dryer or artificial heat.
Safety Information
Always consult your physician before purchasing or beginning any treatment with the Ultima Neuro or any other electrotherapy product. Unless otherwise prescribed by your physician, Ultima Neuro treatment and all electrotherapy should be avoided by expecting mothers, children, individuals with pacemakers and other electrical implants, and individuals with other complicating conditions. Never operate a motor vehicle while undergoing electrotherapy. If you experience an adverse or unusual reaction when using this product discontinue use immediately and contact your physician. NOTE: If you have a pacemaker or other implant please consult with your physician before purchasing or using the Ultima Neuro.
Legal Disclaimers
User assumes all responsibility for the use/misuse of this product. As with all electrotherapy treatment products, the Ultima Neuro should be purchased and used under the supervision or order of a qualified physician. Users must read and follow all directions provided by their physician and the product manufacturer concerning product use, treatment times and protocols. User understands that seller Conductive Therapy Shop is only a distributor and in no way assumes responsibility for any injury this product may cause due to malfunction, misuse, inappropriate application, or any other reason. Actual product packaging and materials may contain more and different information than what is shown here. We recommend that you do not rely solely on the information presented and that you always read labels, warnings, and directions before using this product.
---
We Also Recommend: