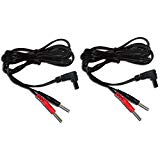 MPO 2500 - 8500 Compatible TENS Type Lead Wires
$ 9.97 USD

Save

$ 6.02 USD
---
MPO 2500 - 8500 Compatible TENS Type Lead Wires 1/Pair = 2 Wires = 4 Pins (These are generic lead wires that fit the MPO device line).
Replacement lead wire pair that is compatible with TENS type  for of TruMedic*, Prospera, Digital Therapy, and many other TENS Electrotherapy Devices that use a 2.5 mm safety plug and splits into two 2mm pins. Will enable your TENS or electrotherapy devices to work with with Conductive Therapy Shop brand Electrode Socks, Gloves, Cuffs, Sleeves and other electrode pads that use standard 2mm pin or "pig tail" style plug connectors. Please note that all TENS devices and electrodes pictured here are sold separately. *Does not work with TruMedic TM-1000 Pro model.
NOTE: This product qualifies for USPS First Class Shipping
Features
Safety Information
Always consult your physician before purchasing or beginning any treatment with the Ultima Neuro or any other electrotherapy product. Unless otherwise prescribed by your physician, Ultima Neuro treatment and all electrotherapy should be avoided by expecting mothers, children, individuals with pacemakers and other electrical implants, and individuals with other complicating conditions. Never operate a motor vehicle while undergoing electrotherapy. If you experience an adverse or unusual reaction when using this product discontinue use immediately and contact your physician. NOTE: If you have a pacemaker or other implant please consult with your physician before purchasing or using the Ultima Neuro.
Legal Disclaimers
User assumes all responsibility for the use/misuse of this product. As with all electrotherapy treatment products, the Ultima Neuro should be purchased and used under the supervision or order of a qualified physician. Users must read and follow all directions provided by their physician and the product manufacturer concerning product use, treatment times and protocols. User understands that seller Conductive Therapy Shop is only a distributor and in no way assumes responsibility for any injury this product may cause due to malfunction, misuse, inappropriate application, or any other reason. Actual product packaging and materials may contain more and different information than what is shown here. We recommend that you do not rely solely on the information presented and that you always read labels, warnings, and directions before using this product.